A Bristol Charity has had a new project completed by STM for an artificial turf sports pitch. We think this new wet pour rubber overlay with newly advanced 3G rubber crumb infill, will see maximum return for the community centre.
Windmill Hill City Farm is a charity-based community centre in Bristol which provides recreation, education and therapy to the community. Using facilities including a play area, gardens a café and sports pitch hire, the charity can offer a range of different activities for all to enjoy. In preparation for the busy summer time, Windmill Hill wanted a revamp of their existing sports pitch so STM were contracted in to do the supply and installation work in May 2018.
Picture shows the discoloured and worn old wet pour rubber surface.
Before Artificial Grass
The existing sports pitch at the farm had seen better days, the old wet pour rubber surface was worn and outdated. It required patching in places, so it was decided that the upgrade to artificial grass was needed soon.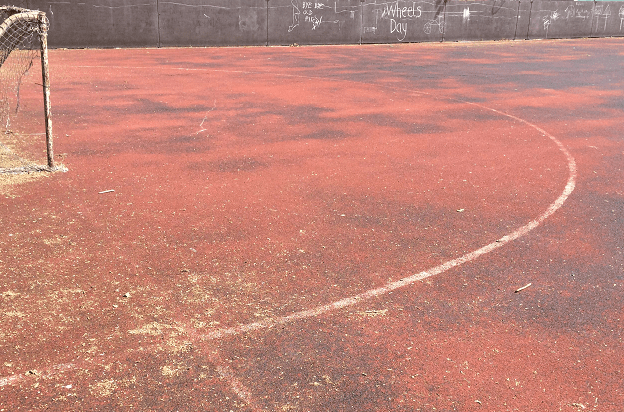 Picture shows the cracked base needed patching up in places.
Initial Design and Consultation
Often community centres and charities have limited budgets therefore we always aim to do the installation work in the most cost-effective way possible. Therefore we advised a shorter pile height artificial grass carpet which would cater to the local community including anyone who wanted to hire out the facility- 3G products are the most desired product when it comes to renting out facilities and can help to maximise profits in the long run.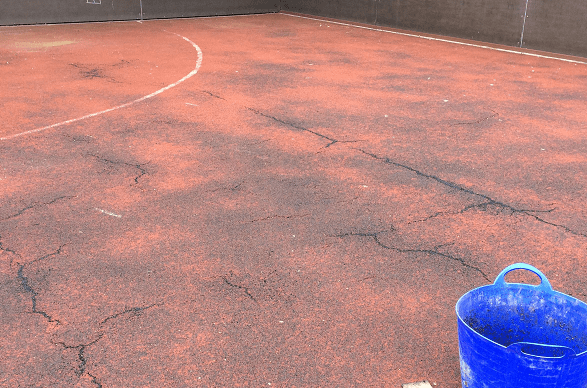 Atomic Pro 50 is a 3G rubber crumb infill product from British manufacturers TigerTurf. We work with TigerTurf's advanced products which offer advanced durability and performance perfect for our install at Windmill Hill. A total of 657 square metres of the product was used.
The Sports Pitch Installation
Picture shows the Atomic Pro 50 carpet going down in sections with specialist artificial turf and glue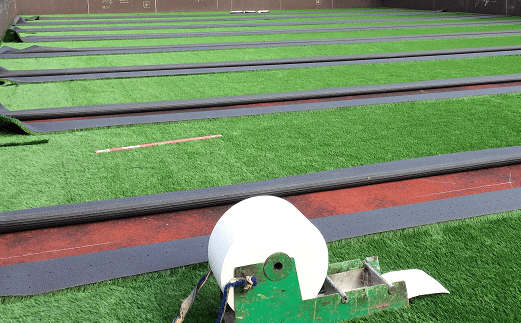 After the Sports Pitch Installation
The carpet is fitted with the new white line markings which are cut into the turf.
The final step of the installation is to infill the artificial grass with a rubber crumb and sand infill and groom the surface.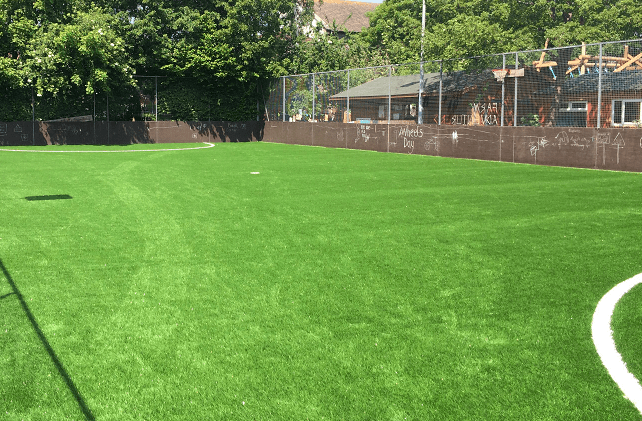 On the Windmill Hill City Farm website they were eagerly awaiting the completion of the new sports pitch:
"Our rubber crumb playing surface is ideal for five-a-side kickabouts, football matches, workouts and exercise groups.
We have invested… into a new 3G sports pitch which will open on 1stJune 2018.
Work will be carried out in May to install the high quality, shock absorbing surface which will enhance the sporting experience for local teams".
We have no doubt that the charity will benefit from their new sports pitch for many years to come and STM will offer ongoing support to ensure the pitch remains in the best condition with our maintenance division.